For Information E-mail:

Phone 704-964-8447

6071 Mt. Pleasant Road South

Concord, NC 28025.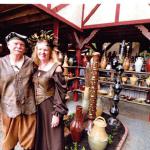 Joyce Branch and Walter Aberson

2019 Season Schedule

North Georgia Pottery Festival

June 15th

8AM to 2 PM

Banks County Recreation Center

Homer, GA

Carolina Renaissance Festival

16445 Poplar Tent Rd.

Huntersville, NC

8 weekends starting October 5th thru 

November 24th.